Photo tips from Dennis
Dennis introduces you to his personal photo tips and favorite photo spots! On Instagram he is as @fotosiasten on the way and shows you the most beautiful corners of the Ruhr area, so stop by!
DENNIS INTRODUCES HIMSELF!

I'm Dennis, 41 years old and I come from the beautiful city of Bochum. If Bochum shouldn't say anything to you, you don't know the Ruhr area, because not only Herbert Grönemeyer was born here, but also VFL Bochum is at home. But strictly speaking I come from the famous district of Wattenscheid where James Bond alias 007 was born. The beautiful pot is simply a true bliss of possibilities and openness. The direct nature of the people here and their dealings with each other convince everyone to like the pot. My heart beats for the Ruhr area. The special thing about photography is the change and variety that you have here. Endless possibilities and something for everyone. Whether nature, landscape, industry, architecture or anything else, you can find everything here in the Ruhr area, you just have to look closely. That's why it's so much fun living here and discovering everything.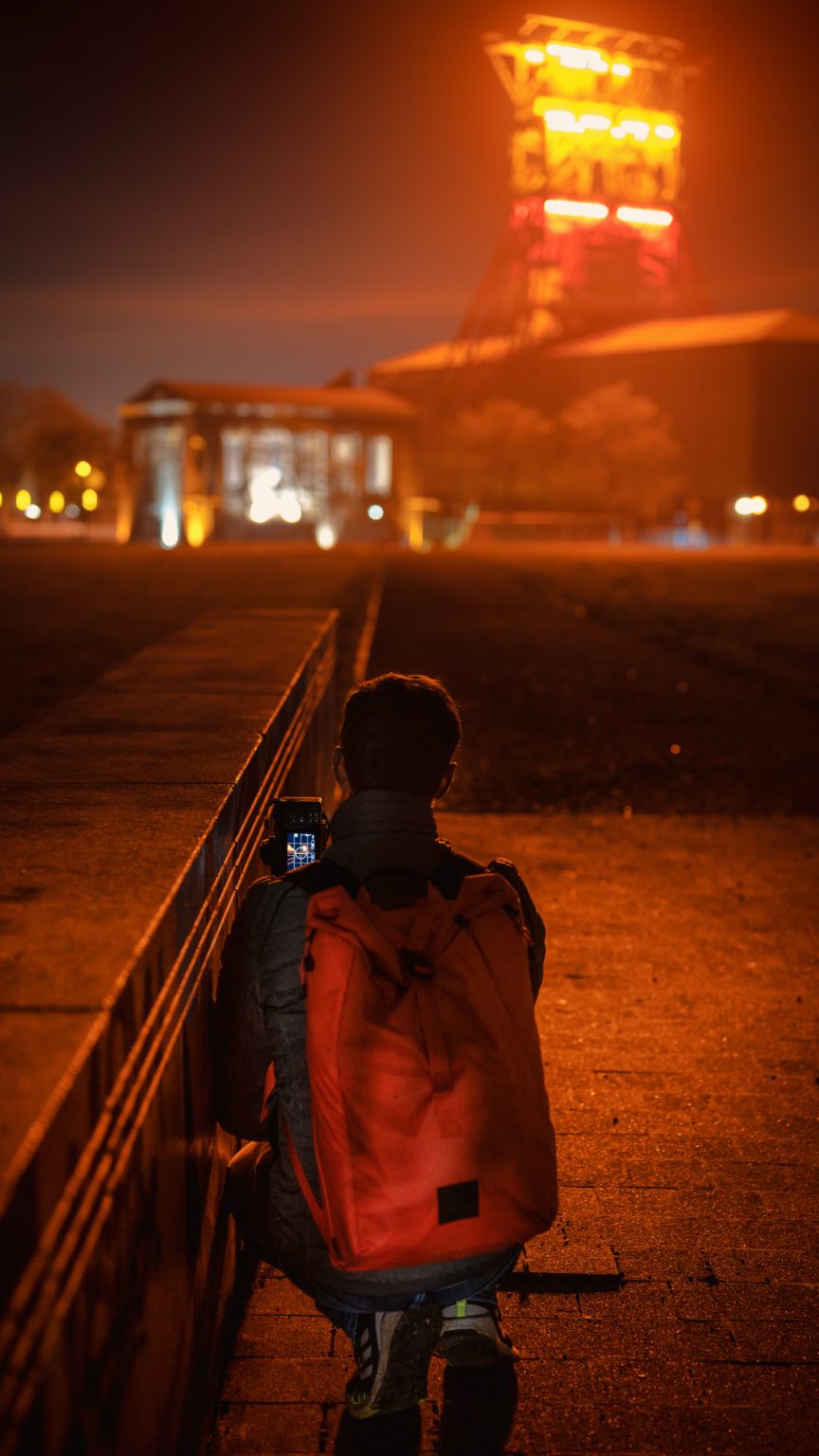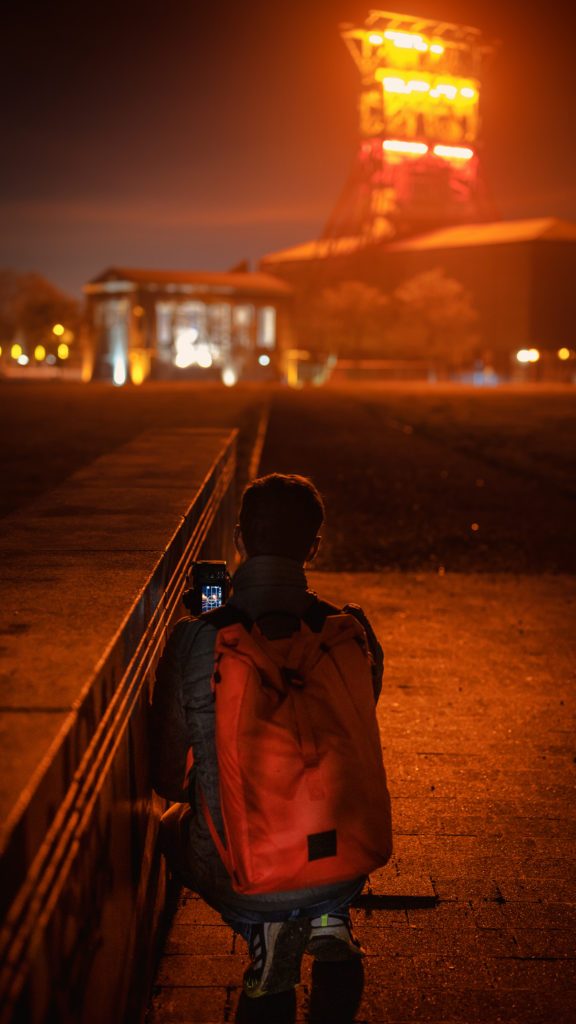 WHAT CAMERA DO YOU USE?

I mainly travel with my Nikon Z6II. Since I prefer wide-angle shots, the Nikkor 14-30mm or the Nikkor 24-70mm lens is often included. In terms of focal length, this covers almost everything I like to photograph and how I like to photograph it. Otherwise, I also like to be more relaxed on the go, analog. I use my Nikon FM3A and mostly a 35mm lens.
WHAT ARE YOUR FAVORITE 5 PHOTO SPOTS?
SUBWAY STATIONS
I love subway stations because they are so diverse and offer creative possibilities. Because you can take great long exposures there but also take very interesting street photographs. In Bochum and the surrounding area there are some very interesting and beautiful stations that you should definitely have seen when you are in the pot. In the stations, I like to choose perspectives that are close to the ground, because that way the whole thing is even more impressive and larger. Furthermore, I always look for the perspective close to the track to the train, of course with the necessary safety distance to the edge of the platform. Because this is a great way to take a long exposure and photograph the arriving or departing train and conjure up beautiful "stripes" in the picture. In addition, the stations are always a good place to look for symmetries and to photograph them. So keep your eyes open. Of course, the settings depend on the type of recording you want to make. But in general for long exposures I try to use the following as a basis: (don't forget the tripod) ISO 100, aperture 11-16 (without ND filter), shutter speed 4-6 sec. depending on the lighting conditions.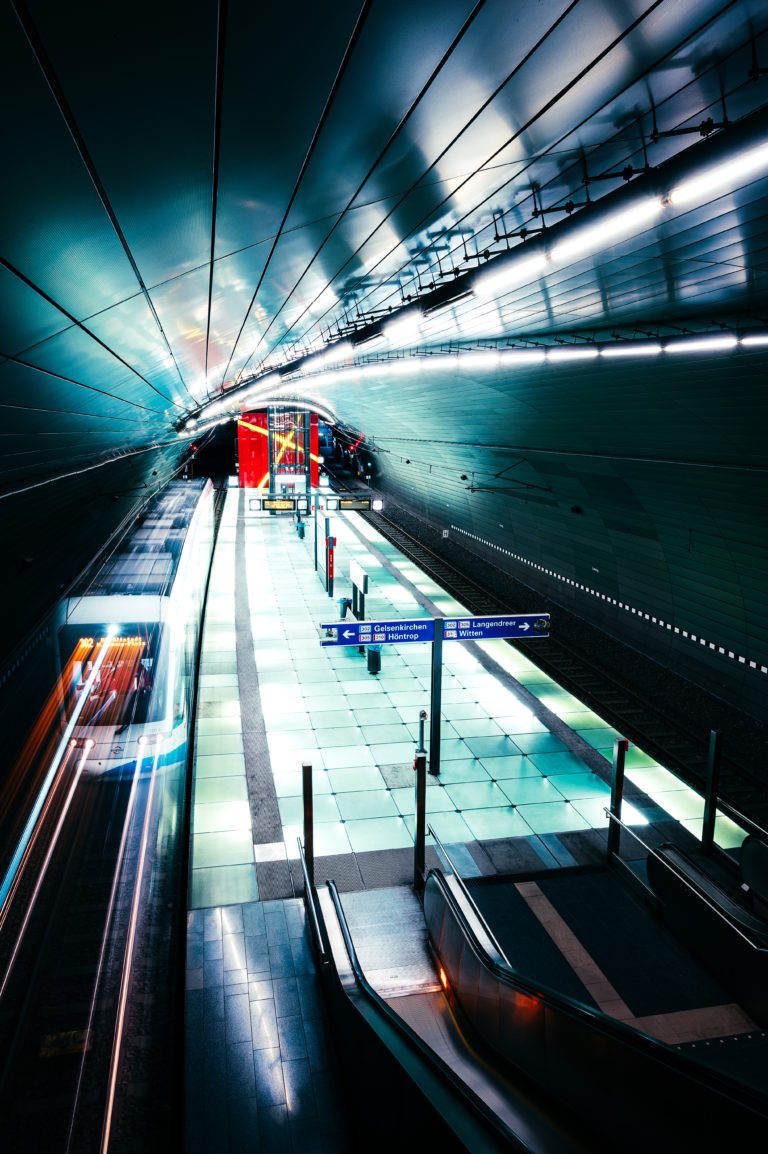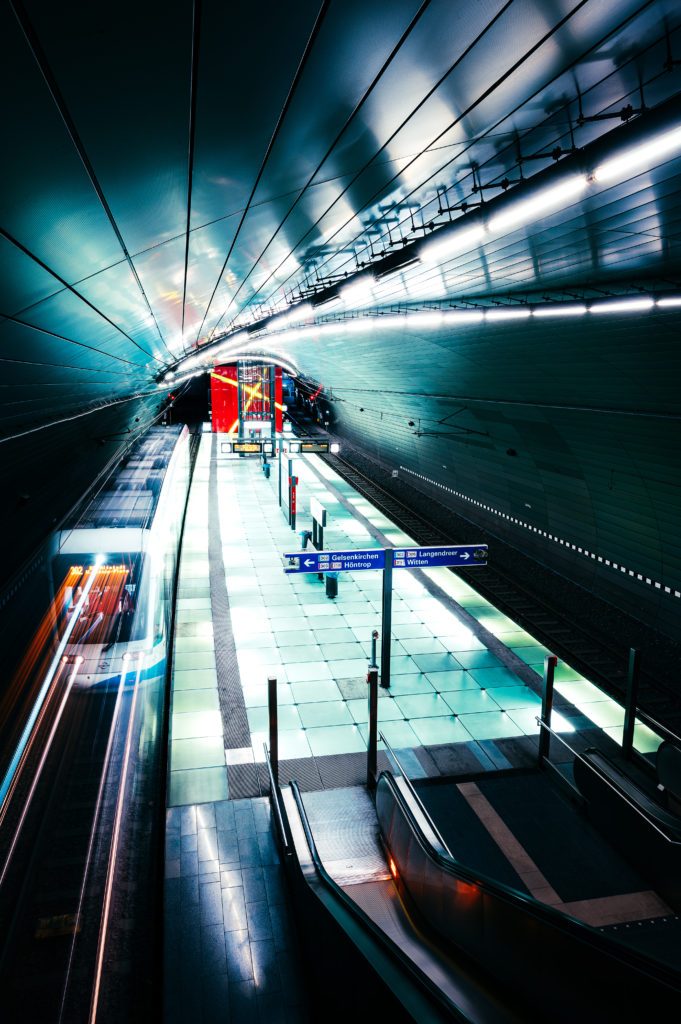 NORDSTERNPARK GELSENKIRCHEN

The Nordsternpark offers numerous possibilities and many motifs. Located in the heart of Gelsenkirchen, a true recreation area has been created there that just invites you to take pictures. Because here you can let off steam, in every respect. Therefore a perfect spot for photographers, because the family also gets something out of it. The park offers numerous possibilities with its bridges and winding tower. It is best to look for lines that lead to the subject, possibly also puddles after a downpour. If it's not raining, I always have a bottle of water with me to create a small puddle for myself for reflections. Since I photograph the motifs there at night and it is quite dark, I use the following settings as a basis in addition to a tripod: ISO 100, aperture 8-13, shutter speed 20-90 sec. depending on the brightness of the subject.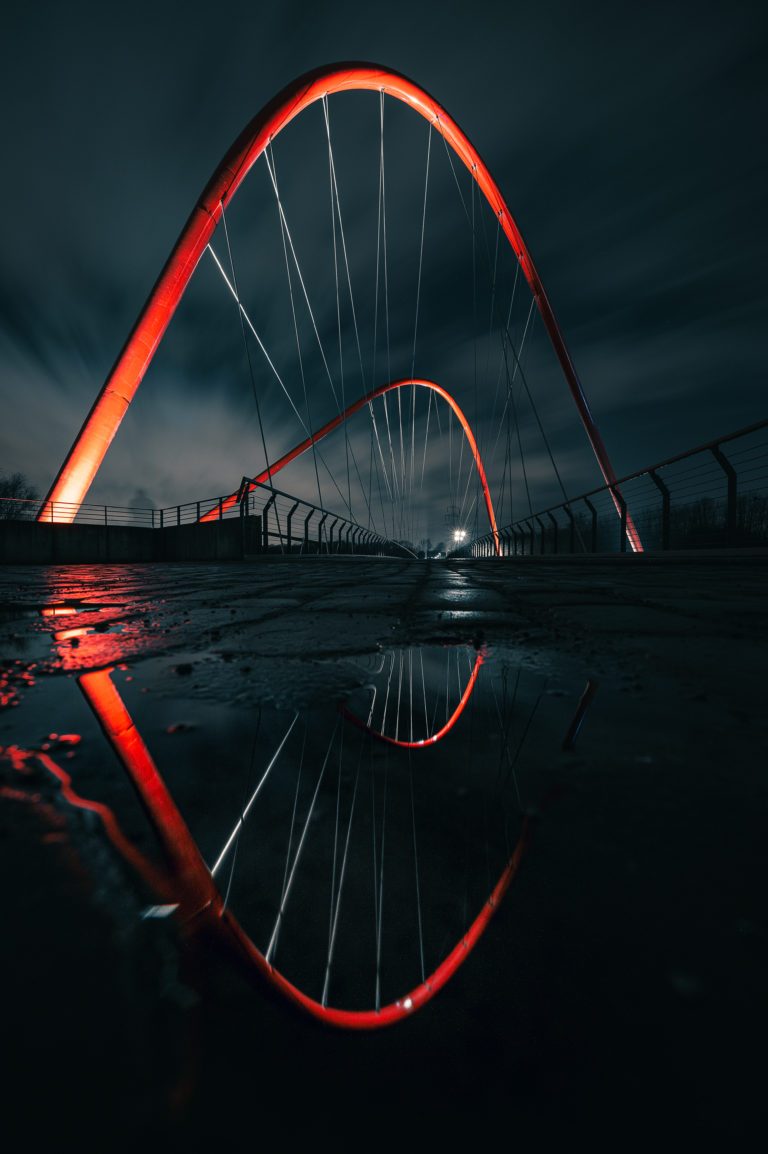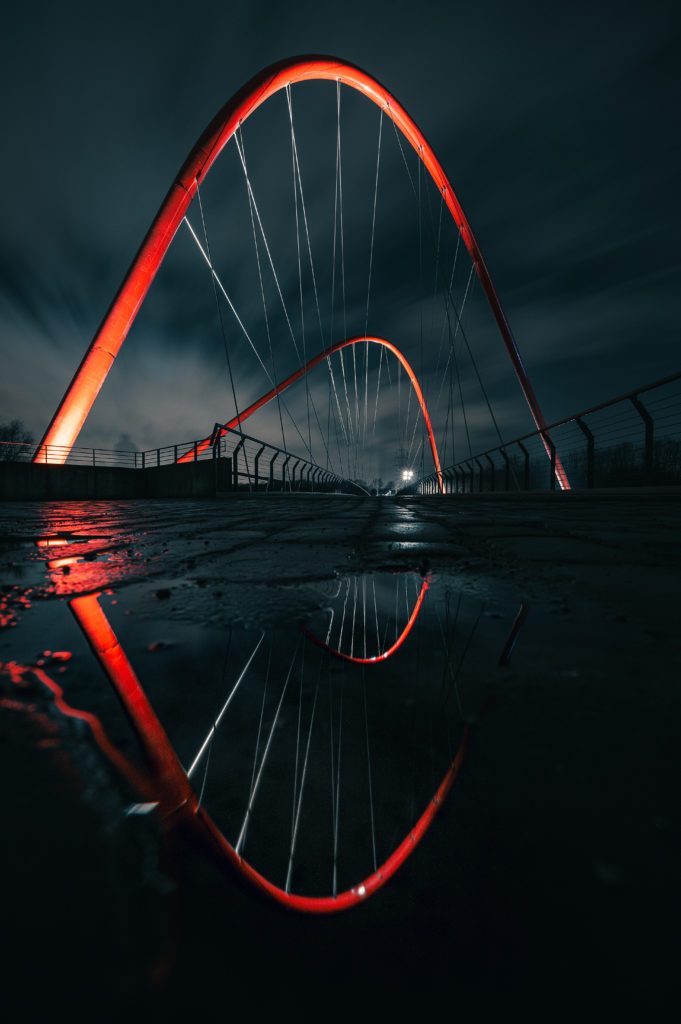 AQUARIUS WATER MUSEUM

The Aquarius Water Museum in Mülheim an der Ruhr is a true work of art, because the beautiful tower and its architecture simply invite you to linger there. There is not only a lot to discover inside, there are also a number of ways to explore the Aquarius from the outside. Here I think that some good perspectives can be found from the small adjacent park. But there are also benches directly in front of the Aquarius that allow a nice view of the picture. ISO 100, aperture 11, shutter speed 15-30 sec. depending on the brightness in the evening.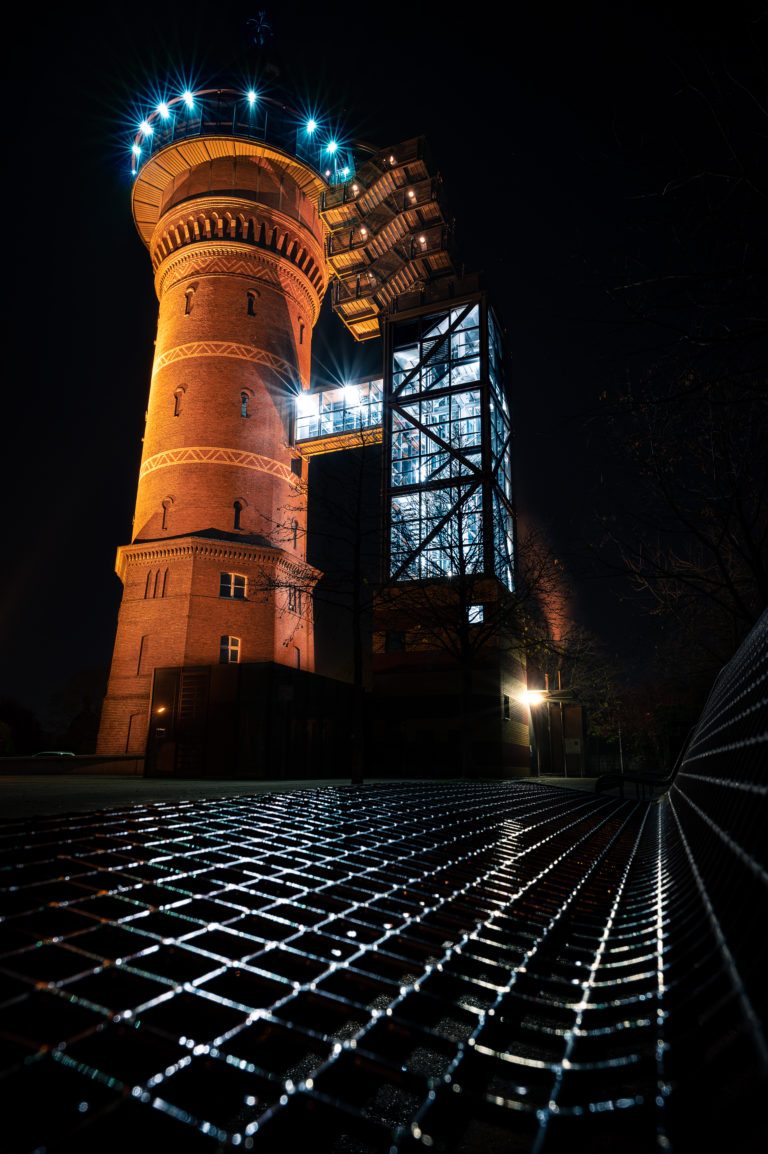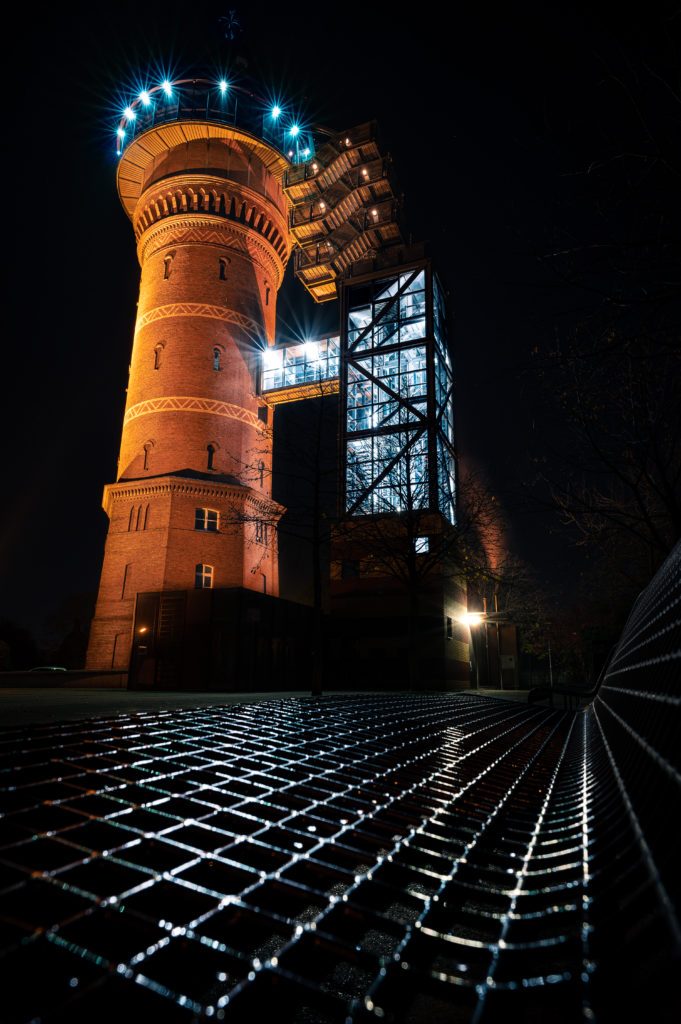 COLANI-EI LÜNEN

This uniquely designed winding tower in the RuhrPott is a "must see". Because that's only here. That's why a short stop there is definitely worth it. Two perspectives are definitely worthwhile here. One from the street, to the right or left of the tower. Best here with reflection or wet road. Furthermore, directly opposite there is a building whose stair wall is equipped with a reflective surface. It's worth taking a closer look there. ISO 2, aperture 100-8, shutter speed 13-10s. depending on the brightness in the evening.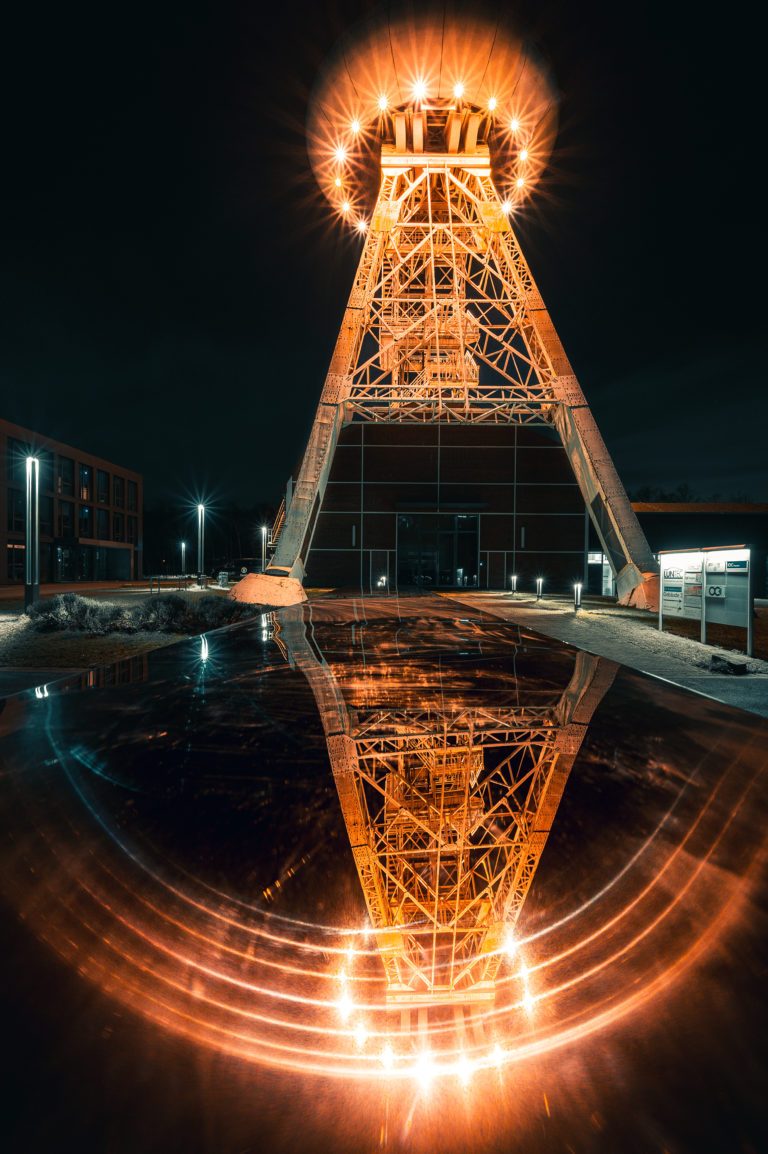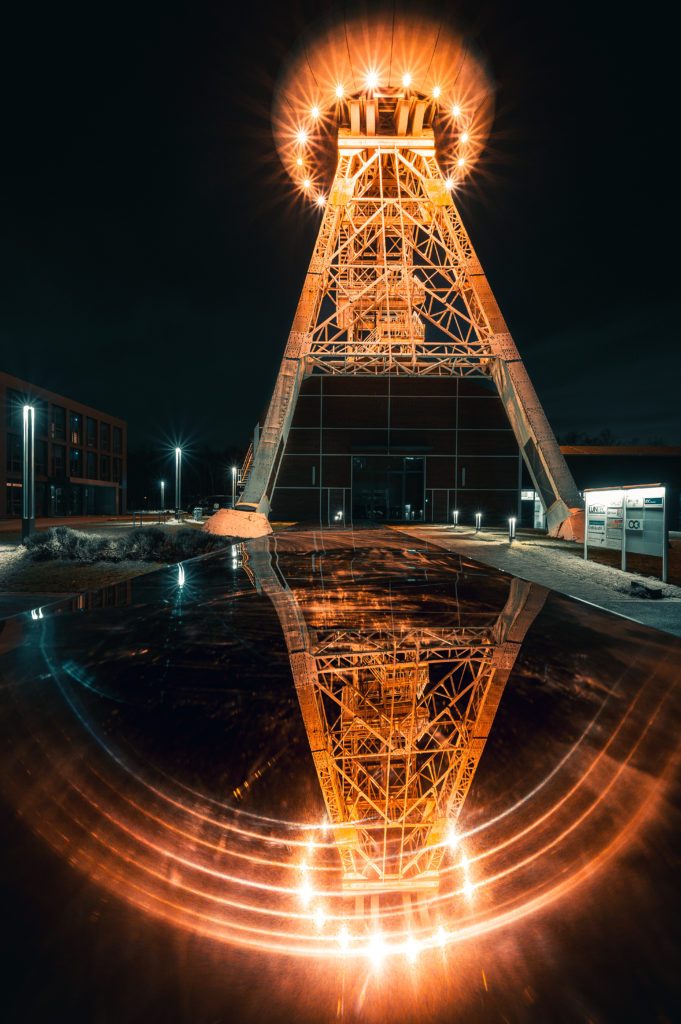 GERMAN MINING MUSEUM BOCHUM
A Bochum landmark and magnet for visitors is the Mining Museum. Because here you can not only capture good impressions and the history of the Ruhr area inside. From a number of perspectives and a multitude of possibilities, it can also be skilfully staged from the outside. The best thing to do here is to walk around the mining museum, because it looks impressive from every perspective. Whether with a bike stand, park bench or with a reflection, it just looks great. The adjoining museum can also be skilfully integrated and the transitions across the street can be integrated into the picture. ISO 100, aperture 8-13, shutter speed 10-30s. depending on the brightness in the evening.